Upcoming Evening Shows
Frankenstein
Date/Time: 17-21 October @ 7.45pm, Saturday matinee @ 2.45pm
"Slowly I learnt the ways of humans: how to ruin, how to hate, how to debase, how to humiliate. And at the feet of my master I learnt the highest of human skills, the skill no other creature owns: I finally learnt how to lie."

Childlike in his innocence but grotesque in form, Frankenstein's bewildered creature is cast out into a hostile universe by his horror-struck maker. Meeting with cruelty wherever he goes, the friendless Creature, increasingly desperate and vengeful, determines to track down his creator and strike a terrifying deal.

Urgent concerns of scientific responsibility, parental neglect, cognitive development and the nature of good and evil are embedded within this thrilling and deeply disturbing classic gothic tale.

Frankenstein was first presented at the National Theatre, London, on 5 February 2011, directed by Danny Boyle, and broadcast live in cinemas with a 15 certificate.

Tickets only available online

Sedos are resident company at the Bridewell Theatre

Read More and Book Tickets
---
Jetsam
Date/Time: 23 - 25 October @ 8pm
Devised using the stimulus of food banks, Jetsam is a poignant and darkly humorous piece that tracks eight different characters as they move through a world turning its back.

Read More and Book Tickets
---
Love and Information
Date/Time: 27 - 28 October @ 8pm. Sat matinee @ 4pm
Churchill's fast-paced series of vignettes. Modern, philosophical, touching and funny, follow multiple faces and voices trying to make sense of life.

Read More and Book Tickets
---
Top Hat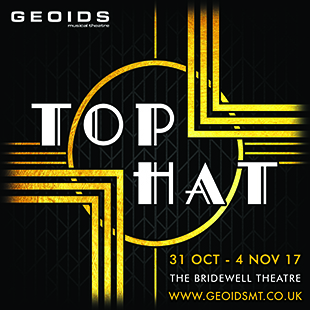 Date/Time: 31 Oct - 04 Nov @ 7.30pm. Sat matinee @ 2.30pm
Based on the 1935 Fred Astaire/Ginger Rogers screwball comedy of the same name, Top Hat is a 2011 musical based on the songs of Irving Berlin. The fun story centres around American star Jerry Travers and his tempestuous relationship with Dale Tremont told with comic characters, mistaken identities and classic tunes!

The Irving Berlin songs featured in the show include "Top Hat, White Tie and Tails", "Cheek to Cheek" and "Let's Face the Music and Dance". The West End production won the Olivier Award for Best New Musical in 2013.

Read More and Book Tickets
---
Pravda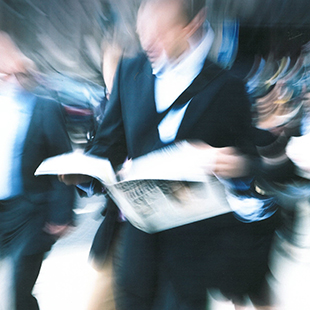 Date/Time: 07 - 11 November @ 7.30pm. Sat matinee @ 3pm
It's 1985 and Lambert Le Roux is a South African press baron who dominates the British newspaper industry. He headhunts Andrew - a young, inexperienced journalist - to run his most recent acquisition, but it's only a matter of time before Andrew's conscience collides with what Le Roux is asking of him. Will integrity triumph over ambition?

Winner of the 1985 Evening Standard Best Play Award, Brenton and Hare's biting comedy still asks pertinent questions thirty years after it was first performed. Pravda (Russian for "truth") shows us what happens to the news before it reaches us.

Telephone 020 7353 1700

Read More and Book Tickets
---
Lysistrata: A Musical Adaptation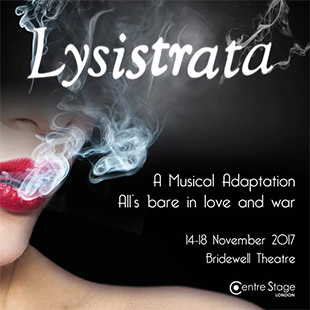 Date/Time: 14 - 18 November @ 7.30pm. Sat matinee @ 2.30pm
It's the 1940s, wartime London. We meet Lysistrata as she gathers women around her from all walks of life, they have one aim; Peace. How will they achieve this? The women plan to force the men to sign a Peace Treaty by refusing to have sex with them until they do!

That's by no means to say they won't make things as hard as possible to ensure they succeed; they will be teasing, they will be tempting but most importantly they will be working together to end the war.

Their biggest opponent will be the Mayor of London and his four rather hopeless policemen (who have a secret penchant for Barbershop!); they are intent on ruining her plan. With the help of Beatrice, the leader of the chorus of London women, they will fight against the chorus of London men led by Bertie - a man who doesn't quite seem to be playing with the full deck...

We will discover how it takes just one person to bring everyone together and make a difference, and we will see how much fun they can have doing so along the way!

All will be bare in love and war.

Read More and Book Tickets
---
Priscilla Queen of the Desert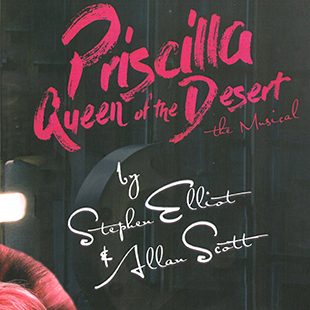 Date/Time: 22 Nov – 02 Dec @ 7.30pm. Sat matinee @ 2.30pm (No perf Sun or Mon)
"A journey to the heart of fabulous!"

Based on the Oscar-winning 1994 hit movie, the critically-acclaimed stage musical version of Priscilla has played to packed houses all over the world during its journey over the last 10 years!

A colourful and vibrant spectacular featuring all-time dance and pop hits from the 80's and 90's, the story follows three friends brought together under very differing circumstances on their adventure from the glamour and sparkle of Sydney as they 'Go West' into the heart of the Australian continent and desert.

Their journey through the desert introduces them to a variety of memorable characters and situations that only three drag queens could find themselves in. Technicolour costumes and wigs, sky-high platform boots and dance anthems entertain from start to finish but at the very the heart of the story is the rekindling of relationships and new romances which will keep you smiling, laughing – and singing along!

Priscilla Queen of the Desert The Musical was first presented at the Lyric Theatre, Sydney, on 7 October 2006, directed by Simon Phillips.

Tickets only available online

Sedos are resident company at the Bridewell Theatre

Read More and Book Tickets
---
Nell Gwynn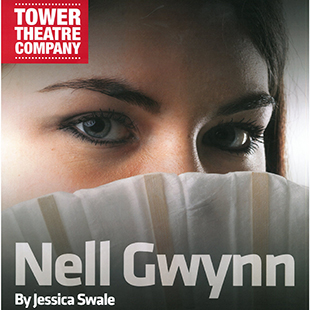 Date/Time: 05 - 16 December @ 7.30pm. Sat matinees @ 3pm. No perf Sun or Mon
It is 1660. The Puritans have run away and Charles II has exploded onto the scene with a love of all things loud, French and sexy. And at Drury Lane, a young Nell Gwynn is selling oranges for sixpence. Little does she know who's watching.

Premiered at The Globe and winner of the 2016 Olivier Best Comedy award, Nell Gwynn charts the rise of an unlikely heroine, from her roots in Coal Yard Alley to her success as Britain's most celebrated actress, and her hard-won place in the heart of the king. But at a time when women are second-class citizens, can her charm and spirit protect her from the dangers of the court? And at what cost?

Telephone 020 7353 1700

Read More and Book Tickets
---