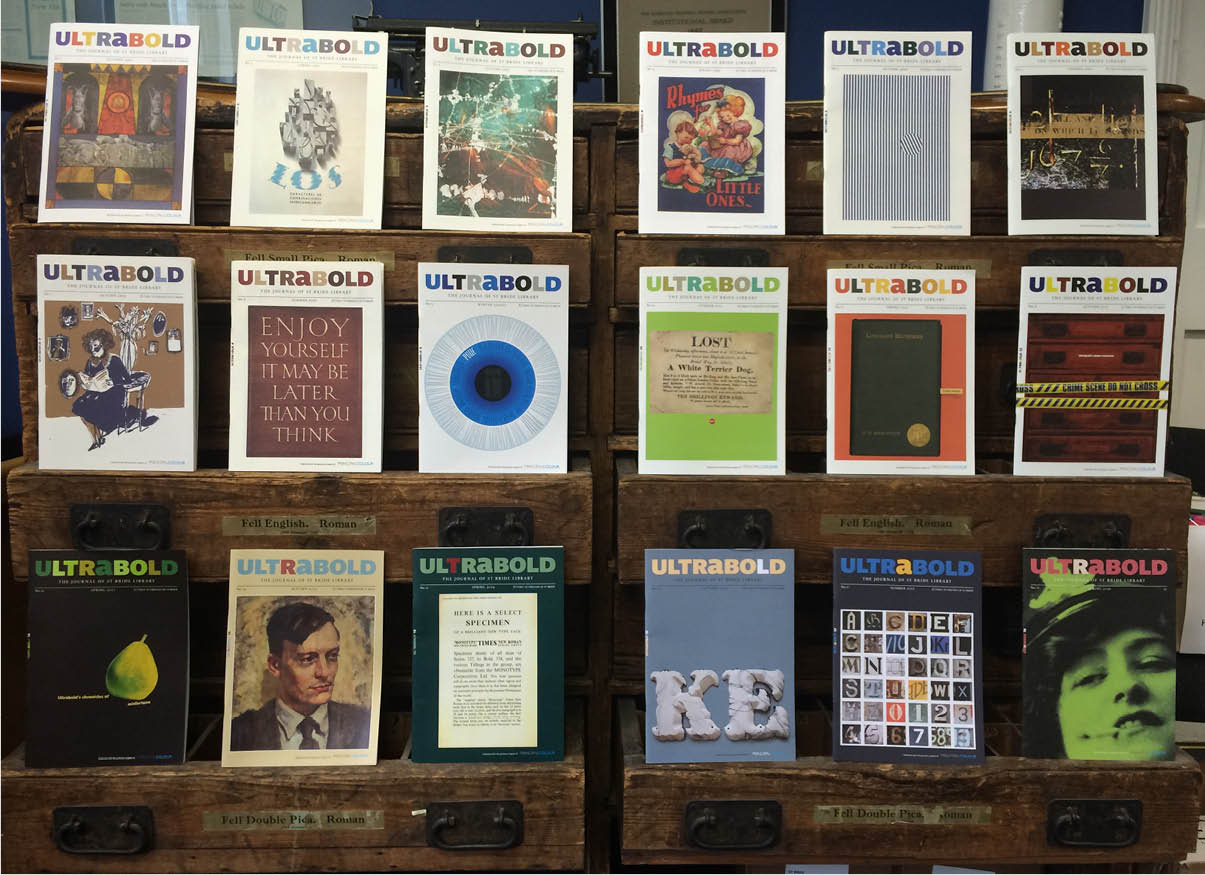 ULTRABOLD The Journal of St Bride Library
ULTRABOLD... ON HOLD but not dead yet!
Rumours of its death, to paraphrase, are unfounded; ULTRABOLD is on hold but not yet buried and not 'stopped for ever' as recently reported online.
A consulting letter was sent to all members of Friends of St Bride explaining that the current costs of producing Ultrabold are using up all their kind donations; which posed the question of what do they want to achieve with their ongoing generosity... more life into the library or used on Ultrabold as it currently stands? The precise phrase used "This will therefore be the last edition of Ultrabold until we have a clearer picture of what members want" If members want Ultrabold then we will look at how to make production more cost effective, possibly through sponsorship and advertising, whilst also growing the membership of Friends of St Bride.
To continue the opening theme, the St Bride Foundation for Print Heritage is 'getting better'! Last week the Board of Governors confirmed that the Interim General Manager role is now a permanent appointment and the Foundation should make a small operating surplus in 2016/17. Since April, General Manager Paul Jessop has been working with the Trustees to give the Foundation a clearer identity around its print heritage role and has approached the London Museum Development Team to re-open discussions to get nationally 'designated' status for the St Bride Typographic & Print Heritage library.
The Foundation is investing in the library and aims to have its new library management system operational by December 2016.
Currently we are in the process of exploring how the Foundation can increase the opening hours of the library and as explained to the Trustees, "the aim is to get the library open one day every week as soon as possible, the demand is clearly there, but it's not as simple as opening the door! For increased opening to have meaning, we need trained staff that know our huge collection of print and printing objects and can speedily locate requests. Interested parties can be assured that increasing opening of the library is a priority."
For those who wish to purchase a copy or two of Ultrabold you can do so in person, via our online shop by clicking on BOOK NOW
The Newest Edition No.18 & Current issues, No.16, No.17 are £7.00 each
Back issues No.1 to No.15 are £3.00 each or £35.00 for all 15 back issues.
Dates & Times:
Book Now