Fan Girl
Directed By: Lily Ann Green
Written By: Eddie Coleman
Presented By: Nerd2 Productions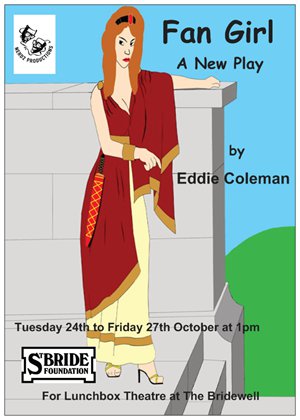 Written by Eddie Coleman
Directed by Lily Ann Green
Starring Karen Whyte
Presented by Nerd2 Productions
A 45 minute one act comedy drama.

Geraldine is a lonely, lowly secretary living with her invalid mother, Her only respite is a hit American television show loosely based on the life of an actual third - century Syrian Queen, Zenobia.

And now she has used her savings to attend the first International Zenobia fan event, ready for the weekend of her life!

We cheer her on through the highs, the lows, the embarrassments and her small triumphs. And we learn the secrets behind her obsession with Zenobia.

Tue 24 - Fri 27 October @ 1pm.

Tickets £7 in advance, £9 on the door. BOOK HERE

Following a sell out run at the 2017 Camden Fringe Fesitval with a 4 star review!

No latecomers will be admitted.

Price: £7 in advance, £9 on the door
Date/Time: Tue 24 - Fri 27 October @ 1pm
Book Now